Nowadays, sports play an important role in the people's life, it not only helps to improve your health but also make you relax after the hard working day. There is thousands problem about sports, but in this article, I just want to mention about how to make the sportswear, in other words, some tips for sewing sport wears.
We hope that it can make you find interesting from sewing sportswear and you can sew some for yourself with the right design and style. You particularly can increase imagination ability.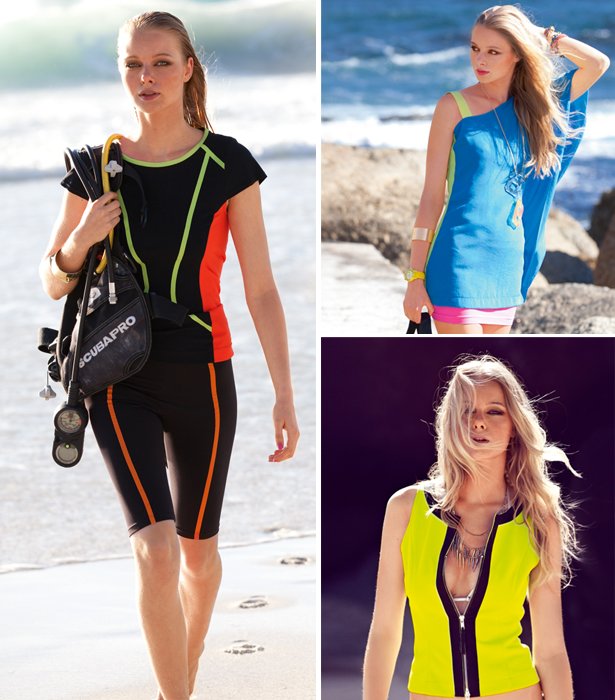 Advises for sewing sport wears
We are going to show you five tips to sew sportswear and plus to handling the stretch fabrics that you need for the type of garment. Besides, If you have not had the sewing machine yet, you can buy it on the internet with the good price.
I used to buy a sewing machine from this web, and I am very satisfied with this machine and the cost as well because I compare it with the same model but with the very high cost.
Select the exercise-specific pattern
As you know, mostly commercial sewing pattern are produced very well in term of appearance when standing, sitting and walking. However, exercise requires the different movements, and the place stress demands on the different areas that the average casualwear pattern. Therefore, you should look for the pattern that especially is designed for your activity or adapt when you need.
1.  Going zigzag
You might think that it is impossible to sew the sportswear without the overlocker. I make sure that you are wrong, You absolutely can sew the great sportswear.
Firstly, you need to set your sewing machine to the narrow zigzag with the short stitch length, and then you can sew several lines of stitching on the scrap before you start any new project.
After that, you have to stretch the fabric as far as you can length wise and cross wise to the stitching. In case that the stitching breaks you have to make the stitching more dense in that direction.
For example, you can shorten your stitch length if it pops lengthwise. In contrast, you can choose the narrower zigzag stitch if it pops crosswise.
Also, it is time for you to change your needle to a stretch or ballpoint tip if you are getting skipped stitch.
2. Do not stretch
While you are using the sewing machine or the overlocker, stretching the cloth can result in unsightly ripples. You have to control the different feed until it lies flat if you are getting the stitching on the overlocker.
With the sewing machine, you can invest in the walking foot, or you can use a roller food with the presser tension to turn down until without further rippling.
Some tips about stitching in sewing athletic wear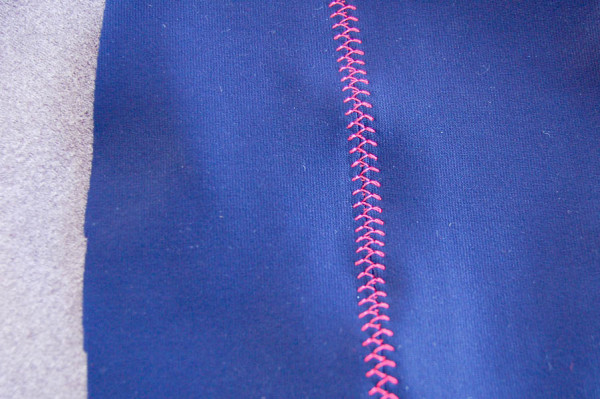 I want to share with you that some of the stitches that you see on the normal sportswear are stitches that you can not sew at home. However, the important is that I want you to know what are these and make it easy to determine where you can substitute other stitches
We can see that there is two function of this stitch which provides the abrasive and strongest stitch possible, Flat seaming and flat looking. It is in the areas where are stretched when you wear or will be stretched a lot during your movements.
You can use the cover stitch which is one of the great sewing machines for sportswear. It hems, can be decorative, stop stitches and under stitches. It might have two or three needles, and the underside is a looper and allowing the seam to stretch. You also can take the machine to one needle for chain stitching that is used for topstitching.
Besides, I also want to tell you about one more model which is serger. This machine will be appropriate for sewing with the knits; it also can be used when needing raw seam stretch and clean finishing.
Additionally, you can buy the zigzag machine which is the strongest stitches typically found on the bras, elastic and the medical garments. It can stretch and to recover repeatedly because of the nature of stitch angles. You might think that it is complicated with the multiple settings for the zigzag stitching on your machine.
You should remember that one step zigzag is when it is in one stitch length per angle. Three step is where there are three small stitches for per angle. In case that you can not have access to a serger, it would help you to go to stitch for construction. Besides, this stitch can be used for topstitching and install elastics.
Briefly, it depends on your machine options; there might be some stitches which available for stretch fabrics. If you want to check it, you can stretch the fabric to test their durability.
About thread
It can be seen that using the correct thread is very important. With athletic wear, this not only for the performance of your garment but also for being comfortable and relaxed. As I know, the mostly thread is used in active wear is the T18-T27 range and the lower number, the lighter the thread.
You have to be careful because the thread on the stores or spools normally is T40. The thread that is heavy can make us abrasions where the seam is held against yours if you are wearing the clothes with too much negative ease.
You can use another option for softer seams such as fluff thread which is textured and soft against the human's body if you want to sew the compression garment or the thing that will be worn tightly.
In conclusion, the choice belongs to you. You can buy or sew sportswear. I just want you to know that sewing sportswear is not something out of our hands, just with some tips that I share with you, you can realize that nothing is impossible. Hope that you enjoy your life, have a good day!